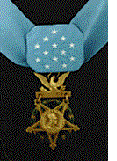 The Medal of Honor was awarded to 20 Screaming Eagles during Vietnam. 3 of these 20 belonged to the 2/17.
The President of the United States of America, authorized by Act of Congress, March 3, 1863, has awarded in the name of the Congress the Medal of Honor to

Sgt. Robert M. Patterson
Spec. 4 Joseph G. LaPointe Jr.
Spec. 4 Michael J. Fitzmaurice
Return to Main Page