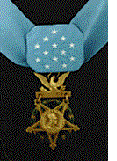 The Medal of Honor was awarded to 20 Screaming Eagles during Vietnam.
3 of these 20 served with 2/17 Cavalry.
The President of the United States of America, authorized by Act of Congress, March 3, 1863,
has awarded in the name of the Congress the Medal of Honor to:

Sgt. Robert M. Patterson
Spec. 4 Joseph G. LaPointe Jr.
Spec. 4 Michael J. Fitzmaurice
Return to Main Page